Hitachi Channel Solutions, Corp.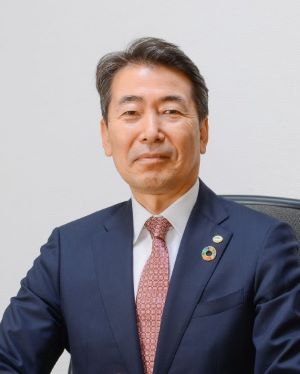 Tetsuya Yagi
Representative Director, President
Shaping a sustainable future by connecting
the real and the digital, people and society
with technology and trust.
We are a global innovation partner;
always close to our customers, looking ahead,
and rising to the challenges.
In July 2021, we changed the company name from Hitachi-Omron Terminal Solutions, Corp. to Hitachi Channel Solutions, Corp. As the new company name illustrates, we will evolve into a solution vendor that solves customer issues and provides solutions that lead to further added value, by strengthening our business of working through channels (pathways) to connect real-world customers and users to the digital world and analyzing and utilizing the data gained through that process.

To achieve this new vision, we will strive to solve customers' issues together with them by working as close as possible to customers and the operating field, further enhance the technologies we have cultivated and the trust we fostered to date, and have each employee think and act for themselves, in our efforts to create new value.

At present, we are facing increasingly diversified, complicated social issues, including a declining birthrate and aging population, labor shortages, global environmental problems such as climate change and global warming, and the progress of digitalization. Further, the change in our lifestyles toward the new normal is being accelerated by the spread of COVID-19. We have created a range of innovations for financial institutions and other customers, thus contributing to solving customers' issues and to the development of a safe, secure and comfortable society. In addition, in response to the COVID-19 pandemic, we harnessed our technological and development capabilities to pioneer solutions for self-directed, remote, and contactless interactions.
We will continue to provide customers with new solutions, which create value from data, by enhancing our digital initiatives with the technologies we have cultivated to date and with our customer base that is underpinned by the trust we have built. At the same time, we will expand our business globally, from the areas of finance, distribution, transportation and public services to new fields such as healthcare and construction.

We aim to be an innovation partner that continues to take on challenges, without fearing failure, to create a future where anyone can work and live comfortably and feel excited, and that works to realize a sustainable society through its own growth.